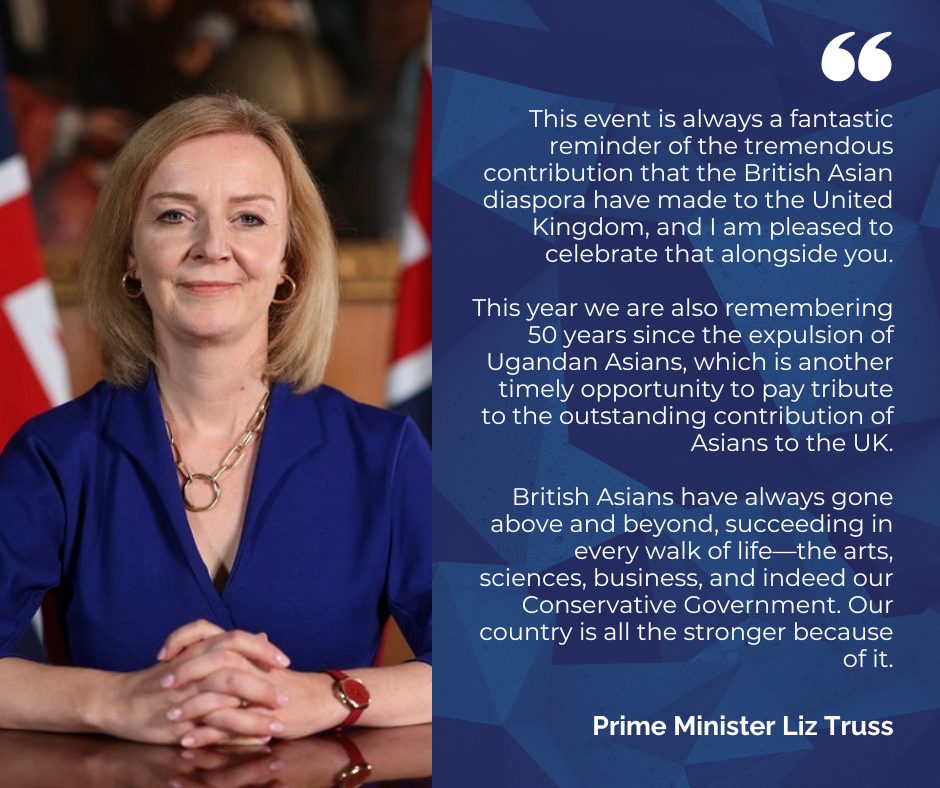 "This event is always a fantastic reminder of the tremendous contribution that the British Asian diaspora have made to the United Kingdom, and I am pleased to celebrate that alongside you.
This year we are also remembering 50 years since the expulsion of Ugandan Asians, which is another timely opportunity to pay tribute to the outstanding contribution of Asians to the UK.
British Asians have always gone above and beyond, succeeding in every walk of life—the arts, sciences, business, and indeed our Conservative Government. Our country is all the stronger because of it."
"British Asians are a driving force behind the much of the social, cultural and economic innovation we see in Britain today. You represent so many of the values that help our communities thrive – inclusiveness, hard work and ambition to name a few. These are Labour values too.
I grew up in a small town in Surrey. My dad worked as a toolmaker on the factory floor and my mum was a nurse for the NHS. Later I became the first in my family to go to university. So, like many in the room tonight, I share in the pride and sense of empowerment you will take from the inspirational stories of the nominees. I hope it will inspire those in the audience to succeed in the years ahead.
Let me end by saying thank you to all the nominees, attendees and indeed the committed organisers for helping make Britain a better, brighter, more secure and more prosperous country. Your example is truly inspiring to me and my colleagues in the Labour Party."
Sir Keir Starmer, Leader, Labour Party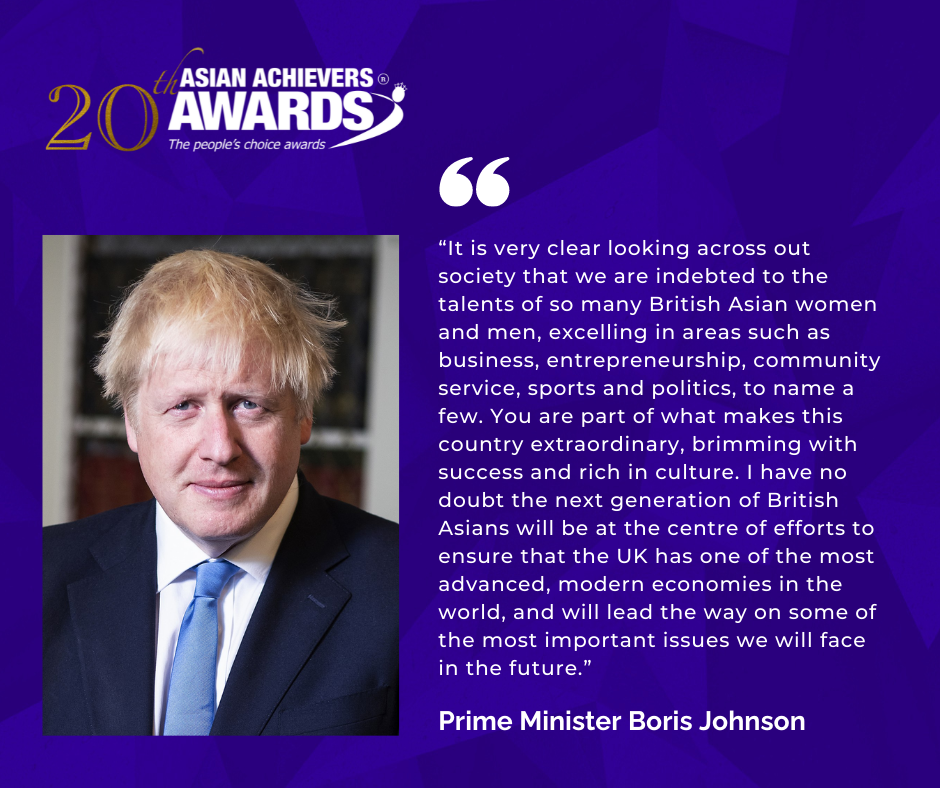 "It is very clear looking across out society that we are indebted to the talents of so many British Asian women and men, excelling in areas such as business, entrepreneurship, community service, sports and politics, to name a few. You are part of what makes this country extraordinary, brimming with success and rich in culture. I have no doubt the next generation of British Asians will be at the centre of efforts to ensure that the UK has one of the most advanced, modern economies in the world, and will lead the way on some of the most important issues we will face in the future."
Prime Minister Boris Johnson
Book Your Early Bird Table For 2023 Now
PLATINUM
TABLE
Early Bird price
Best seats in the house' guaranteed
Company logo displayed on table
Full-page advert in Awards ceremony magazine
3 x Bottles of champagne
Three-course meal, coffee and petit fours
Arrival and red carpet drinks reception, Awards ceremony
Bottles each of red and white wines
Event photos available next working day
Option to upgrade to sponsorship later
£5,000+VAT
GOLD TABLE
Early Bird price
Good table position
Company logo displayed on table
Half-page advert in Awards ceremony magazine
1 x Bottles of champagne
Three course meal, coffee and petit fours
Arrival and red carpet drinks reception, Awards ceremony
Bottles each of red and white wines
Event photos available next working day
Option to upgrade to sponsorship later
£3,500+VAT
SILVER TABLE
Early Bird price
Three-course meal, coffee and petit fours
Arrival and red carpet drinks reception, Awards ceremony
Bottles each of red and white wines
Event photos available next working day
Option to upgrade to sponsorship later
£2,500+VAT