The Asian Achievers Awards started in the year 2000 in a small avatar, started by Asian Business Publications Limited. The event grew in stature and tracked the rise of the South Asian community in the UK. Since its inception the Awards have helped raise more than £5 million for charitable causes. Today, the events are organised by global advisory firm EPG. Read on for a little more about our history.
Our history in the UK is a rich one. Past award-winners are indicative of just how rapid this growth in the South Asian contribution to the economic, social and cultural fabric of Britain has been. They have created jobs, inspired generations, brought joy to many and changed the UK for the better.
2021
Global advisory firm EPG takes over AAA
Global advisory firm EPG, headed by Managing Director Pratik Dattani, takes over the prestigious Awards. The Awards continue to be managed by Commercial Director Liji George, with the addition of Smita Patel and Dr Sarfraz Ashraf to the team.
2019
Helped raise more than £200,000 directly at AAA 2019 and over £2m indirectly for Charity of the Year Yuva Unstoppable.
2017
Along with leading donor and charity advisors Charity Clarity, ABPL started the annual Charity Awards to help recognise and support leading charities and social enterprises from across the country.
2015
A five-year campaign to restore direct flights between Ahmedabad (Amdavad) and London came to fruition, with the first flight taking off from Ahmedabad on 15 Dec 2015.
2015
The Indian Prime Minister addressed around 40,000 members of the Indian diaspora at Wembley Stadium, London. In this address he specifically thanked CB Patel for championing the cause of the British Asian community over several decades.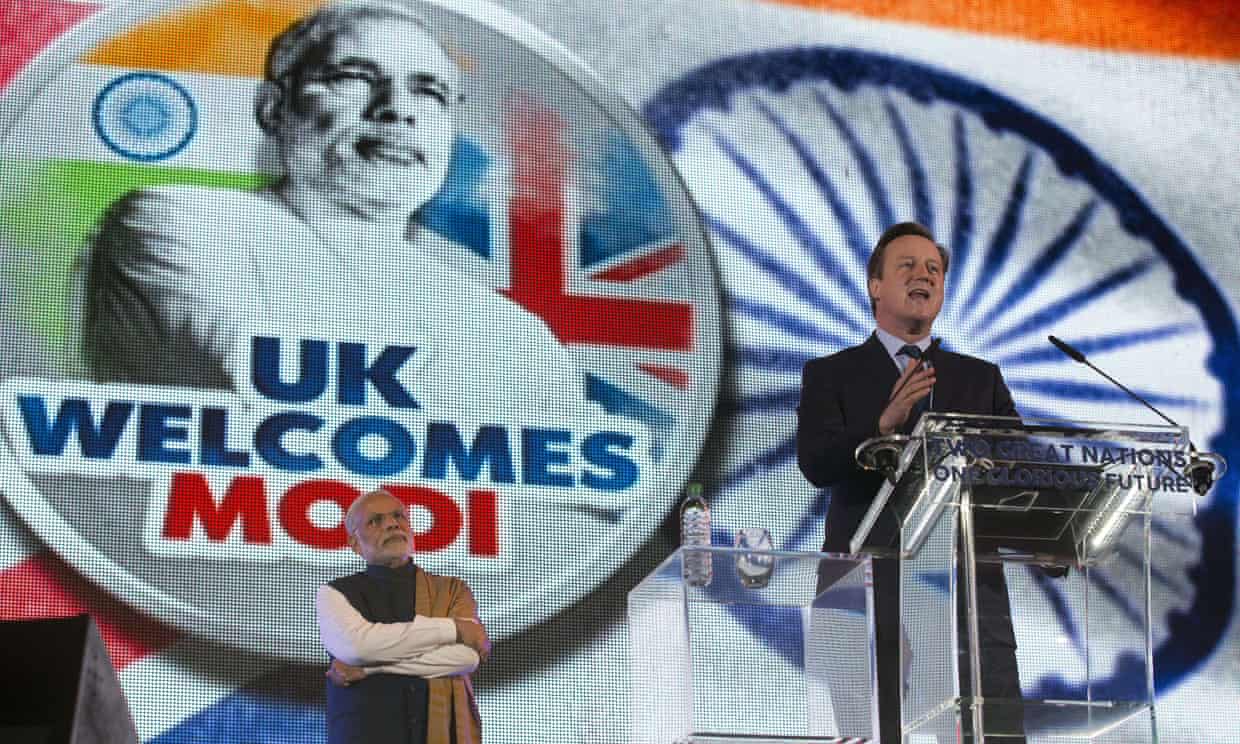 2000
Asian Achievers Awards is founded
ABPL CEO Liji George starts the first edition of the Asian Achievers Awards, to honour and celebrate the best of the British Asian community.
Just three years after this, Narendra Modi, future Prime Minister of India, inaugurates ABPL's new offices in Old Street in London.
1997
Celebrating 25 years
in the UK
Our proud moment in our history, with Prime Minister Tony Blair, Minister Jack Straw and Keith Vaz MP present to celebrate Gujarat Samachar's 25th anniversary.
1994
Campaigning for community assets
The Hare Krishna temple and spiritual sanctuary to many British Indian immigrants, in Letchmore Heath in north-west London, donated by Ringo Starr, which acts as a spiritual sanctuary to many British Indian migrants is threatened with closure. ABPL led a long campaign to protest with key support from Britain's first Asian MP Keith Vaz.
1988
Huge fundraising
During a hugely successful and well-attended religious discourse in Preston, £117,000 is raised to dig water wells in drought-ridden parts of Kutch, Saurasthra and north Gujarat in India.
MAY 1986
Campaigning against dictatorship in Fiji
General Rambuka leads a military coup in Fiji, imposing a dictatorship. The Government, with a majority of Indian origin representatives is overthrown. Gujarat Samachar organises several meetings of Fijian Indians in London to pressurise the British Government to safeguard the people.
1983
First major community fundraising campaign
Heavy rains cause massive damage to parts of Saurashtra in western India. In an age before easy online giving, Gujarat Samachar and others start a relief fund the proceeds of which are sent to India within a few weeks. Gujarat Samachar representatives visit the flood-hit areas.
1981
Building on the first decade
Margaret Thatcher visits India for the first time as Prime Minister. On her invitation, Editor CB Patel accompanies her. Gujarat Samachar and New Life launch a campaign against 'Immigration & Nationality' issues put forward by the Prime Minister. We collected 32,000 signed applications and submitted to Indian PM Indira Gandhi in New Delhi.
18 March 1977
New Life beckons
Building on the success of Gujarat Samachar and the growing demand for an English language version for the younger demographic and non-Gujarati speaking population, ABPL launches New Life, which would later become Asian Voice.
5 MAY 1972
Gujarat Samachar Is Reborn
ABPL started publishing Gujarat Samachar, from a small printing press in the Old Street area in London and distributing it individually through community leaders and newsagents, first in London then further afield. The UK sees a flood of Ugandan Asian refugees arrive to London, Leicester and other areas.